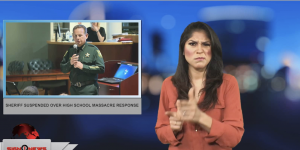 Sign1News delivers news for the deaf community powered by CNN in American Sign Language (ASL).
Transcript
Newly elected Florida Governor Ron DeSantis kept his campaign promise and suspended Broward County Sheriff Scott Israel.
Israel was in charge of the response to the Parkland, Florida massacre that left 17 people dead.
DeSantis says he suspended Israel because a public safety commission's investigation into the shooting found that the school's resource officer fled from the shooting and officers had failed to take a number of warnings about the shooter seriously, both years and months before the massacre.
Survivors and families of the victims applauded the governor's action.
Israel claims the governor targeted him for speaking out against gun violence.