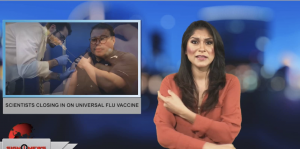 Sign1News delivers news for the deaf community powered by CNN in American Sign Language (ASL).
Transcript
Scientists are getting closer to a universal flu vaccine that will prevent people from having to get vaccinated every year.
The universal flu vaccine would last for years.
A version of it is already in large-scale trials in Europe.
However a universal flu vaccine isn't guaranteed because there's a possibility it won't work.
So until then health experts say keep getting vaccinated with the flu shot every year, which is still better than no flu shot at all.