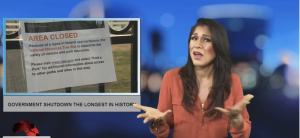 Sign1News delivers news for the deaf community powered by CNN in American Sign Language (ASL).
Transcript
By the end of today the current government shutdown will be the longest in US history at 22 days and counting.
For three weeks President Trump and Democratic leaders have been at a stalemate over funding Trump's $5 billion border wall.
Unfortunately it doesn't look like the shutdown will end anytime soon.
No meetings between the White House and Congressional staff are expected this week and both Houses of Congress have enjoyed for the weekend.