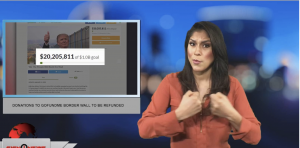 Sign1News delivers news for the deaf community powered by CNN in American Sign Language (ASL).
Transcript
Officials with the crowdfunding platform GoFundMe say they will refund $20 million to people who donated to build a wall on the southern border.
The federal government can't receive the money without congressional approval.
So the organizer Brian Kolfage created his own nonprofit called "We Build The Wall."
The problem is Kolfage had already launched his campaign and GoFundMe forbids changing where donated funds will go.
So GoFund Me is refunding all that money and Kolfage has to start again.