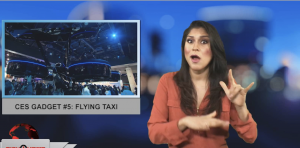 Sign1News delivers news for the deaf community powered by CNN in American Sign Language (ASL).
Transcript
Here is the gadget of the day from the CES convention in Las Vegas.
It's an air taxi.
The Nexus is a small hybrid-electric aircraft that can seat four passengers and a pilot.
It is just a concept now but it got a lot of attention at the convention.
The goal is on-demand travel in the skies with safety, quiet and vertical takeoff and landing.
And how would you hail one?
The inventors have partnered with Uber with the hope that "Uber Air" will take flight in 2023.