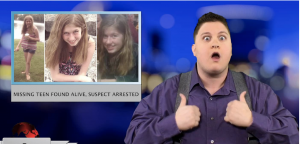 Sign1News delivers news for the deaf community powered by CNN in American Sign Language (ASL).
Transcript
Three months ago 13-year-old was Wisconsin teen Jayme Closs disappeared on October 15.
That's the same day her parents were discovered shot to death in their home.
Authorities found the bodies after getting a mysterious 911 call made from the mother's phone.
There was no one in the house when police arrived but they believe that Closs was there when her parents were killed.
Yesterday Closs was found alive about an hour away from her hometown.
Closs approached a woman walking her dog and pleaded for help.
She also told the woman that the man who abducted her also killed her parents.
Closs was taken to hospital for observation and will be reunited with family members.
Ten minutes after identifying her abductor police arrested 21-year-old Jake Thomas Patterson.
Police say Patterson kept Closs in a home in a remote area and that he killed her parents for the specific purpose of abducting her.
Investigators also say Patterson has no criminal history and it appears he had no previous contact with Closs or her family before the killings and abduction.
Patterson has been charged with two counts of first-degree intentional homicide and one count of kidnapping.