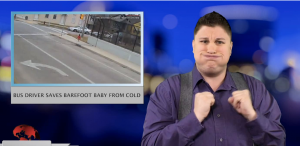 Sign1News delivers news for the deaf community powered by CNN in American Sign Language (ASL).
Transcript
An eagle-eyed bus driver in Wisconsin was driving her route in Milwaukee when she saw a baby girl wandering alone on a freeway overpass, barefoot wearing only a diaper and a onesie in below- freezing temperatures.
She quickly stopped the bus and ran to retrieve the crying child.
A passenger offered her coat to warm the girl while they waited for authorities.
When authorities arrived the child was sound asleep in the driver's arms.
Police say the child's mother had left her outside.
The Milwaukee Transit Authority says the child was later reunited with her father.
No charges have been filed yet.