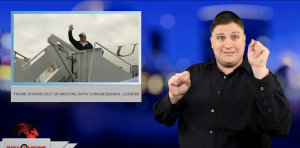 Sign1News delivers news for the deaf community powered by CNN in American Sign Language (ASL).
Transcript
House Democrats say President Trump walked out of a White House meeting by pulling a – quote – "temper tantrum" when they rejected his demand for a border wall.
The president later said he left because the meeting was a – quote – "total waste of time."
He tweeted: "I asked what is going to happen in 30 days if I quickly open things up, are you going to approve border security, which includes a wall or steel barrier? Nancy said no. I said bye-bye, nothing else works!"
He then boarded a plane headed to the southern border.
But even the president seems unconvinced a trip to the border will change anything.
He told news anchors during a lunch – and excuse me, but these were his words – "It's not going to change a damn thing but I'm still doing it."
He also told reporters that he has the absolute right to declare a national emergency to fund the wall if negotiations don't work.