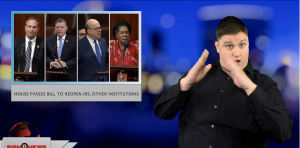 Sign1News delivers news for the deaf community powered by CNN in American Sign Language (ASL).
Transcript
Each day this week, the House plans to vote on bills to fund parts of the government affected by the weeks-long shut down.
Eight Republicans joined with Democrats to pass a bill Wednesday to fund the IRS, Treasury Department and other financial services.
They're expected to vote on bills covering national parks, housing and transportation and the department that administers food stamps.
Despite a threat from the White House to veto the bill, lawmakers say that will not stop them from trying.