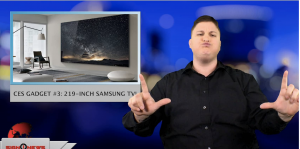 Sign1News delivers news for the deaf community powered by CNN in American Sign Language (ASL).
Transcript
Here's today's gadget of the day from the CES convention in Las Vegas.
Samsung is showcasing a massive 219 inch TV called "The Wall."
That's a screen measuring more than 18 feet!
The TV uses a technology called micro LED which creates a brighter image using less energy than current televisions.
If that's too big for you, a 75 inch modular version is also coming out.
You can either watch that by itself or by additional screens to snap together and make a bigger one.
Sony, TCL and Hi-Sense are also showing TVs 75 inches and larger at the show.