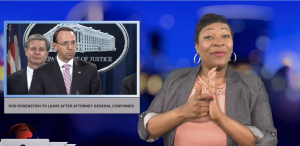 Sign1News delivers news for the deaf community powered by CNN in American Sign Language (ASL).
Transcript
A source tells CNN that Deputy Attorney General Rod Rosenstein is expected to leave the Justice Department once a new attorney general is confirmed.
Rosenstein has been overseeing special counsel Robert Mueller's Russian investigation for more than a year.
Rosenstein has indicated he would leave when Mueller's investigation was either complete, or close enough to completion that it was protected.
The Senate confirmation hearing for Trump's nominee for Atty. Gen. William R begins January 15.
If confirmed, Barr would then oversee the Russia investigation.