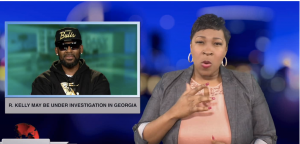 Sign1News delivers news for the deaf community powered by CNN in American Sign Language (ASL).
Transcript
R&B singer R Kelly has repeatedly denied any wrongdoing since he first faced allegations of abuse, predatory behavior and pedophilia dating back to 1994.
But the lifetime documentary series that aired this weekend titled "Surviving R. Kelly," may have sparked new legal trouble for the singer.
An attorney for Jocelyn Savage, one of Kelly's accusers, says the district attorney for Fulton County Georgia is investigating Kelly for incidents that allegedly took place in his Atlanta area home in 2017.
Kelly's legal representation told Billboard the allegations are false and suggested the accusers are defaming Kelly for personal fame.