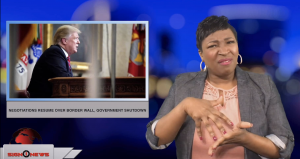 Sign1News delivers news for the deaf community powered by CNN in American Sign Language (ASL).
Transcript
Yesterday Pres. Trump appealed to the nation to support his long promised border wall.
He painted a dark picture of incidents involving undocumented immigrants and accused Democrats of leaving the country vulnerable.
Democratic leadership immediately fired back, accusing the President of fear-mongering, and urging him to end the shutdown that has left 800,000 Americans unsure of when they will receive their next paycheck.
Today Pres. Trump met, once again, with congressional leaders
to resume negotiations over funding his proposed border wall and reopening the federal government, which has been shutdown now for 19 days.