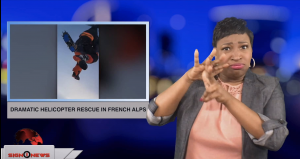 Sign1News delivers news for the deaf community powered by CNN in American Sign Language (ASL).
Transcript
Check this out.
A helicopter pilot literally wedges the nose of the craft within inches of the snowy French Alps to rescue an injured skier.
The crew was able to land, rescue the skier and hoist them up to safety.
Fortunately, the skier is okay.
And big kudos to the pilot of the helicopter.