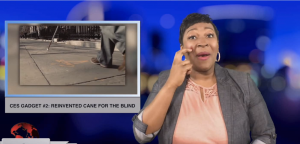 Sign1News delivers news for the deaf community powered by CNN in American Sign Language (ASL).
Transcript
Wow!
Check out today's gadget of the day from the CES convention in Las Vegas.
Is called the "We-Walk Smart Cane."
About 50 million blind people use canes to help them walk around.
They work well for detecting obstacles, but what about objects above chest level?
The "We-Walk Smart Cane" has an ultrasonic sensor to detect such obstacles.
When it detects one, it vibrates to warn its user.
The cane can also pair with smart phones and get navigation data from Google maps.
It's on sale now for about $350.