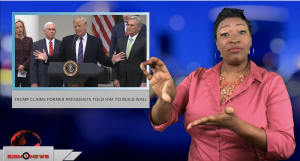 Sign1News delivers news for the deaf community powered by CNN in American Sign Language (ASL).
Transcript
In a press conference Friday, President Trump claimed all of the country's former presidents told him they agree the wall should have been built.
CNN reached out to all four living presidents.
Bill Clinton's camp says he never said that and a spokesperson for George W. Bush says he hasn't ever talked to Trump about a wall.
Jimmy Carter and Barack Obama representatives haven't responded yet but it's highly unlikely Obama ever condoned the border wall.
Obama said in a 2016 speech that the world is getting more interconnected every day and no wall can change that.
Trump has also threatened to initiate emergency powers, which means he could divert military funds and build the wall without Congressional approval.