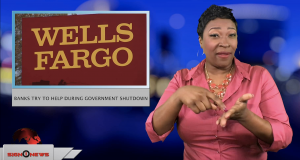 Sign1News delivers news for the deaf community powered by CNN in American Sign Language (ASL).
Transcript
If you're a federal employee affected by the government shutdown and you're trying to figure out how to pay your bills, there are several financial institutes offering help.
Navy Federal Credit Union and First Command financial services are offering interest-free loans and Democracy Federal Credit Union is offering short-term, zero-percent interest loans.
Members of USAA Bank or Transportation Federal Credit Union can apply for low interest loans during the shutdown.
Chase is reversing overdraft and monthly service fees.
Those who have mortgages, loans or credit cards with Wells Fargo can check to see if they qualify for forbearance.
And Bank of America has set up an assistance line and encourages customers to call for assistance.