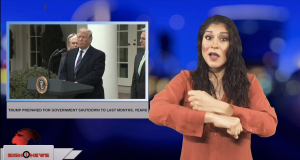 Sign1News delivers news for the deaf community powered by CNN in American Sign Language (ASL).
Transcript
President Trump says more discussions about ending the government shutdown will continue into the weekend.
He also told reporters if he doesn't get the $5 billion needed to build a border wall, he will keep the government closed for months, possibly years.
But he says he does hope the shutdown doesn't go on beyond a few more days.
He also said many of the 800,000 people not getting paid right now are big supporters of what he's doing.
Apparently that doesn't include TSA workers.
TSA workers are required to work even though they're not getting paid.
Today hundreds of officers from at least four major airports called in sick.
Union officials stressed the absences are not part of an organized protest that they believe the number of people calling out will likely increase if the shutdown drags out.