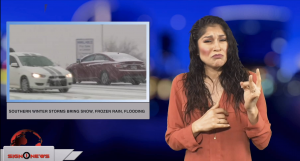 Sign1News delivers news for the deaf community powered by CNN in American Sign Language (ASL).
Transcript
Severe winter storms in the South are impacting more than 28 million Americans from Texas to the Carolinas.
In Tulsa, Oklahoma authorities say at least four people have died in crashes due to icy conditions.
Heavy rain is causing flash flooding issues in Austin, Texas, parts of Louisiana and Georgia and there's a chance of isolated strong storms along the Carolina coast.
The National Weather Service says the Northwest could see numerous storms full of heavy winds, rain and snow next week.