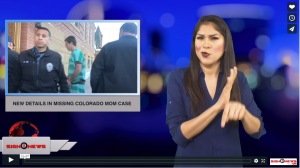 Sign1News delivers news for the deaf community powered by CNN in American Sign Language (ASL).
Transcript
New details are emerging in the case of missing Colorado mother Kelsey Berreth.
According to a source close to the investigation police are looking at a woman in Idaho, who they say is suspected of disposing of Berreth's phone.
Police have said there was a cell phone ping in Gooding, Idaho from Berreth's phone three days after she was last seen.
The connection between the woman and Berreth's fiance Patrick Frazee is still unclear.
Frazee, who is charged with Berreth's murder, previously told police he last saw Berreth on November 22 when he picked up their daughter.
Prosecutors have not released a motive for the murder.