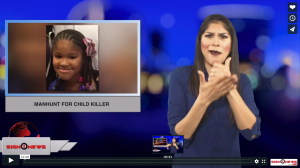 Sign1News delivers news for the deaf community powered by CNN in American Sign Language (ASL).
Transcript
$75,000 is now being offered for information leading to the capture of a child killer in Houston, Texas.
Seven-year-old Jazmine Barnes was killed when a gunman opened fire on a car full of women and children this past weekend.
Witnesses described the shooter as a white male in his 40s with a beard and driving a 4-door red or maroon pickup truck.
Authorities are now pleading with the public to check their personal security cameras to help them catch a license plate.
Police say they're not aware of any interaction or links between the victims and the shooter.