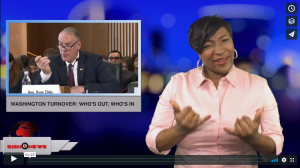 Sign1News delivers news for the deaf community powered by CNN in American Sign Language (ASL).
Transcript
Today was the last day for a couple of members of President Trump's staff.
White House Chief of Staff John Kelly announced he was leaving in December.
According to two officials, he and Trump were no longer speaking to each other.
Today was also the last day for Interior Secretary Ryan Zinke.
The Justice Department says he is at the center of multiple ethics investigations including using his office for personal gain.
But today was also the first day on the job for Patrick Shanahan.
He is now the acting Secretary of Defense after James Mattis resigned last month.
Mattis resigned in December after strongly disagreeing with President Trump over his decision to withdraw troops from Syria.