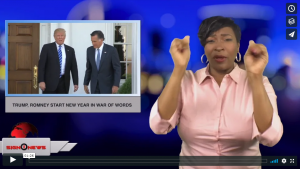 Sign1News delivers news for the deaf community powered by CNN in American Sign Language (ASL).
Incoming Utah Senator and former presidential nominee Mitt Romney slammed President Trump in an op-ed article in the Washington Post today.
In the article, Romney said Trump has not demonstrated honesty, integrity or mutual respect and has not risen to the mantle of the office.
Romney and Trump have a long-standing rivalry and Trump wasted no time responding to the criticism.
He tweeted: "Here we go with Mitt Romney, but so fast! Question will be is he a flake? I hope not. Would much prefer that Mitt focus on border security and so many other things where he can be helpful. I won big and he didn't. He should be happy for all Republicans. Be a team player and win!"