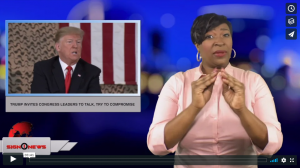 Sign1News delivers news for the deaf community powered by CNN in American Sign Language (ASL).
Transcript
President Trump also hosted a big meeting Wednesday at the White House with top leaders from both parties.
He is looking to reach a compromise regarding the border wall and ending the 12 day government shutdown.
The meeting also included a border security briefing from Homeland Security officials.
We will keep you posted on the meeting developments if, and when, a deal is reached.