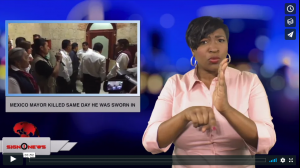 Sign1News delivers news for the deaf community powered by CNN in American Sign Language (ASL).
Transcript
Alejandra Aparicio, the mayor of Tlaxiaco, Mexico was murdered yesterday (Tuesday) just moments after taking office.
He was heading to a meeting when several gunman opened fire on him.
This video shows the moment Aparicio was taken to a local hospital and it shows residents of the area capture one of the gunmen who allegedly shot Aparicio.
The suspect was handed over to authorities.
The mayor later died at the hospital.