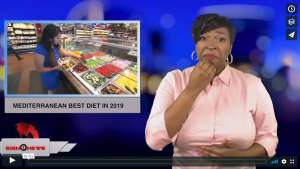 Sign1News delivers news for the deaf community powered by CNN in American Sign Language (ASL).
Transcript
If eating healthy is one of your New Year's resolutions, you will not be eating any doughnuts but the Mediterranean diet might be the plan for you.
It's heavy on vegetables and fruit and incorporates plenty of olive oil, whole grains and lean meats.
And it's ranked as one of the easiest follow.
It's associated with lower rates of diabetes and heart health.
And research links the Mediterranean diet to longer lifespans.