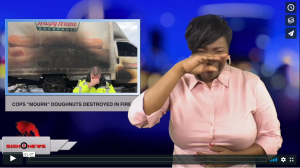 Sign1News delivers news for the deaf community powered by CNN in American Sign Language (ASL).
Transcript
Police officers nationwide are going viral for "mourning" after a fire destroyed a Krispy Kreme doughnut truck in Lexington, Kentucky on New Year's Eve.
No one was injured but the doughnuts could not be saved.
Lexington police posted humorous photos of officers on the scene mourning the loss.
And soon thereafter police departments from around the country responded by tweeting in solidarity.
Krispy Kreme ultimately tweeted words of support saying "We're thinking of you during this difficult time and have more doughnuts on the way."