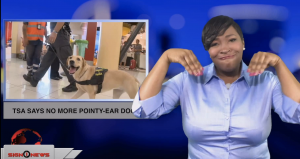 Sign1News delivers news for the deaf community powered by CNN in American Sign Language (ASL).
Transcript
TSA officials say the agency has more than 900 canine teams working at airport security checkpoints nationwide.
The canines help with screening passengers and cargo.
But now the TSA is making a conscious effort to use more floppy-ear dogs because passengers accept those canines better and they don't scare children.
On its website the TSA says it trains seven breeds for its program.
Those include pointed-ear breeds like German Shepherds or Belgian Malinois and those with floppy ears like Labrador or Golden Retrievers.
And for all of you dog lovers out there, hands off.
The dogs wear belts with the words "Do not pet" on them.