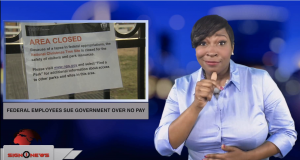 Sign1News delivers news for the deaf community powered by CNN in American Sign Language (ASL).
Transcript
The government is facing a lawsuit filed by federal employees being forced to work without pay during the ongoing shutdown.
About 420,000 essential workers are still reporting to work but not getting paychecks.
Employees considered essential include the corrections officers, border patrol and ICE agents and TSA officers.
So far no comment from the White House.