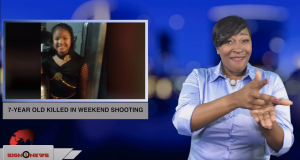 Sign1News delivers news for the deaf community powered by CNN in American Sign Language (ASL).
Transcript
Authorities in Texas are trying to track down whoever shot and killed seven-year-old Jazmine Barnes in a Walmart parking lot Sunday morning.
The Harris County Sheriff's office released this photo of the truck spotted at the scene.
According to investigators the suspect pulled up to the family's car and opened fire.
The motive for the attack is unknown.
The Sheriff's office is asking all residents in the area to check their surveillance videos for any clues on the case.