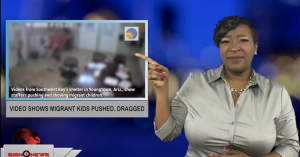 Sign1News delivers news for the deaf community powered by CNN in American Sign Language (ASL).
Transcript
We want to warn you even though this video is blurred some viewers may find it disturbing.
It shows workers at an Arizona shelter for migrant children dragging and pushing at least three kids.
Initially the sheriff department declined to bring charges but after an investigation, the shelter was shut down and shelter workers could now be facing child abuse charges.