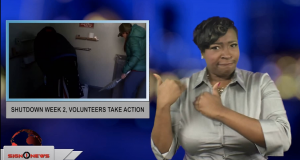 Sign1News delivers news for the deaf community powered by CNN in American Sign Language (ASL).
Transcript
800,000 government workers will begin the new year without a paycheck.
The US government shut down has stretched into its second week and there is no end in sight.
But some volunteers are taking matters into their own hands.
While the staff at the Joshua Tree National Park in California is on furlough, volunteers from the local community are cleaning bathrooms and maintaining the park themselves, even using their own money to buy toilet paper.