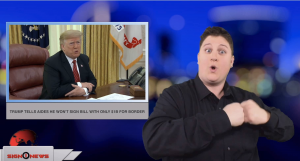 Sign1News delivers news for the deaf community powered by CNN in American Sign Language (ASL).
Transcript
The partial government shutdown has stretched into its second week with no resolution in sight.
And now the president has told his aides he won't sign a bill that comes to his desk with only $1.3 billion allotted for border security.
This announcement comes a week after Democrats rejected an offer made by the White House that had more than $1.3 billion but less than the $5 billion Trump wanted.
As the back-and-forth continues Senator Mitch McConnell has made it clear he won't bring a vote to the floor unless the president has endorsed it.