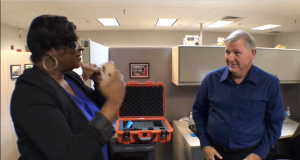 Sign1News delivers news for the deaf community powered by CNN in American Sign Language (ASL).
Transcript
Recently Sign1News had guest anchor Bob Green in studio.
He won the silent auction item during Atlanta Area School for the Deaf's fall fundraiser.
He did an amazing job!
However that's not where the story ends.
We later learned 10 years ago Green played a major role in the life of Sign1News anchor Candace Jones.
And as she worked with him in our studio, it was her opportunity to return the favor and to say thanks.