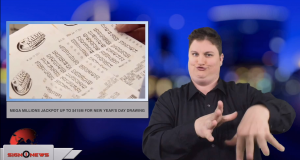 Sign1News delivers news for the deaf community powered by CNN in American Sign Language (ASL).
Transcript
A lucky winner could kick off the new year by becoming a millionaire.
No one won the jackpot in the Mega Millions lottery drawing Friday night.
So the big prize for the next drawing on New Year's day has soared to a whopping $415 million.
A cash option stands at about $249 million.
The lottery hasn't had a big winner since is one and a half billion dollar jackpot in October.
The odds of hitting the jackpot are less than one in 300 million.
But lottery officials say someone did win on New Year's day once on January 1, 2008.