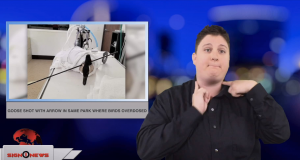 Sign1News delivers news for the deaf community powered by CNN in American Sign Language (ASL).
Transcript
Just over a week ago several geese became sick after overdosing on prescription pills someone scattered on the ground at Huntington Beach Park in California.
Now wildlife officials say they are treating another Canadian goose shot in the neck with an arrow.
Rescuers say the bird had been flying around for about a week with the arrow still in its neck.
That means it was likely shot at the same time someone scattered the prescription pills at the park.
It's unclear if the incidents are connected but rescuers called it a strange coincidence.
Rescuers were able to remove the arrow and the bird seems to be stable.