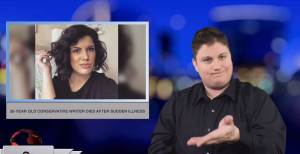 Sign1News delivers news for the deaf community powered by CNN in American Sign Language (ASL).
Transcript
The Federalist Magazine staff writer and commentator Bre Payton died in San Diego at the age of 26.
According to the online outlet CaringBridge.org Payton was found unresponsive and barely breathing two days ago.
She was later diagnosed with H-1-N-1 flu and meningitis and she passed away in the hospital.
In recent years Payton was making regular appearances on Fox News and One America news network.
The Federalist Magazine says she was a joyful, hard-working and compassionate person who brought sweetness and light to everyone around her.