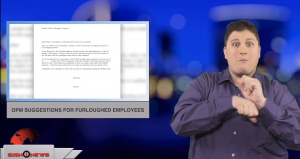 Sign1News delivers news for the deaf community powered by CNN in American Sign Language (ASL).
Transcript
About 800,000 federal employees are furloughed or working without pay until the government shutdown ends.
While the partial shutdown heads into its second week, thousands of federal employees are worried about paying their bills.
So, the Office of Personnel Management (OPM) offered some advice to help federal employees stay financially afloat.
In a tweet, the agency posted a link to sample letters for furloughed workers to send to creditors or mortgage lenders.
OPM officials suggest speaking to creditors or lenders before sending a formal letter to work out potentially, reduced payments.
OPM also suggested workers contact their personal attorneys for further advice.
Many people commented on the tweet saying federal employees worried about paying rent or mortgage probably don't have money for a personal lawyer.