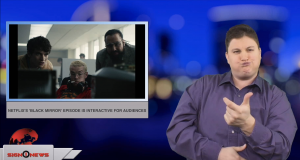 Sign1News delivers news for the deaf community powered by CNN in American Sign Language (ASL).
Transcript
Netflix is testing interactive viewing with the latest episode of "Black Mirror, Bandersnatch."
In this episode, Netflix created a 'choose your own adventure style' of watching, where 'You' control the story.
The story takes place in 1984 and the main character is a young man who is a video game developer that begins to wonder if someone is controlling or manipulating him.
During the episode, the viewer can navigate towards various outcomes and multiple separate endings for the story by choosing 'accept' or 'refuse'.
And while the producers encourage the viewer to try different options of the story, the narrative keeps circling back to the main story.
Hours of footage were shot to accommodate the different possibilities and the movie can run from 40 to 90 minutes, or more depending on the path chosen.
Also, the "Bandersnatch" episode must be watched from a mobile device, such as a laptop, cell phone or a television with interactive capabilities.