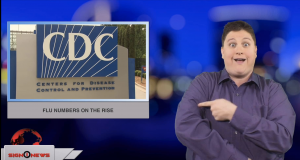 Sign1News delivers news for the deaf community powered by CNN in American Sign Language (ASL).
Transcript
According to the latest report from the CDC, flu cases are on the rise.
The CDC says the number of states with high flu activity is up from the previous weeks surveyed.
Colorado, Georgia, Alabama, Kentucky, Louisiana, Maryland, New Jersey, New Mexico and South Carolina all have elevated flu numbers.
The CDC also reported four more flu-related deaths in children, bringing the total to 11 this season.
The CDC says the best flu prevention is a flu vaccine for those six months and older.
And it's not too late to get one.
Vaccinations won't stop the flu, but it will lessen the severity of the symptoms.