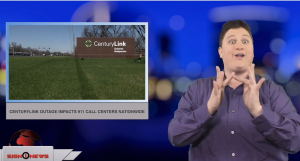 Sign1News delivers news for the deaf community powered by CNN in American Sign Language (ASL).
Transcript
Yesterday, Louisiana-based, CenturyLink announced technical problems, which resulted in a disruption in service in Boston, Salt Lake City and Seattle.
The problem began Thursday.
CenturyLink restored services to all affected areas last night.
The FCC chairman called out the outage "completely unacceptable."
The disruption also affected Internet service for CenturyLink customers in Denver, Dallas, Los Angeles and Chicago.