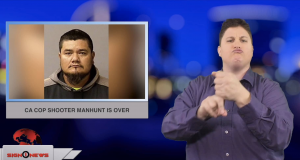 Sign1News delivers news for the deaf community powered by CNN in American Sign Language (ASL).
Transcript
A massive manhunt for the suspect in the shooting death of a California police officer has ended.
Police arrested the man who allegedly shot and killed 33-year-old, Officer Ronil Singh, during a DUI stop, the day after Christmas.
The suspect was caught 200 miles south of where the shooting happened.
Officials say they've arrested others in the case.
The manhunt caught the attention of Pres. Trump, too.
Who tweeted Thursday, "Time to get tough on border security. Build the wall!"
The wall that is at the center of the current government shutdown.
Officer Singh leaves behind a wife and five-month-old son.
He was a Fiji native and had been with the Newman Police Department since 2011.