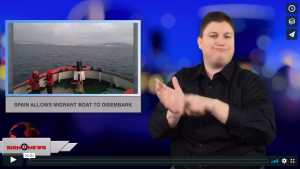 Sign1News delivers news for the deaf community powered by CNN in American Sign Language (ASL).
Transcript
A migrant rescue ship carrying 311 people is disembarked in Spain.
Migrants were rescued from three different boats off the coast of Libya last week.
According to an NGO, the rescue ship sought permission to dock at several European countries, but were denied.
Spain was the only country that allowed disembarked.
Migrants on board were from 19 different countries including Somalia, the Ivory Coast and Mali.