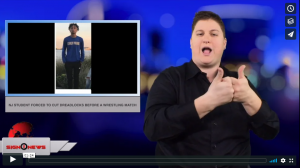 Sign1News delivers news for the deaf community powered by CNN in American Sign Language (ASL).
Tanscript
Earlier this month at a December 19th, wrestling match a referee told 16-year-old, Andrew Johnson, he had to either cut his dreadlocks or forfeit the match.
Johnson complied.
There's a viral video of trainer cutting Johnson's dreadlocks before victory, sparking outrage and accusations of racial bias.
Now, Johnson's school district says it won't send athletes to any sporting events where Alan Maloney, the referee, is refereeing.
The referee who told Johnson cut his dreadlocks was investigated in 2016, for using a racial slur against another referee.
A one-year suspension was overturned after it was appealed to the New Jersey Wrestling Officials Association.