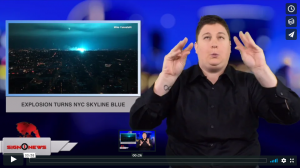 Sign1News delivers news for the deaf community powered by CNN in American Sign Language (ASL).
Transcript
Last night a transformer exploded at a power plant in Queens, New York.
The explosion sparked multiple fires.
The light from the explosion created bizarre looking flashes in the sky, followed by a blue glow.
Some people on twitter wondered if aliens were invading.
Others joked it was the beginning of Armageddon.
LaGuardia Airport was temporarily closed for an inspection and a ground stop was issued until 1030 last night.
New York police say the fire is now under control and no one was injured.