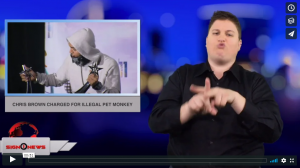 Sign1News delivers news for the deaf community powered by CNN in American Sign Language (ASL).
According to the Los Angeles Times, Chris Brown is facing criminal charges for owning an exotic pet monkey.
Brown posted a picture of the monkey, named Fiji, on Instagram.
California Fish and Wildlife agents then seized the monkey and relocated it to a sanctuary.
According to the LA Times, Brown now face a thousand dollar fine and six months jail.
He is expected to be arraigned in court on January 6th.