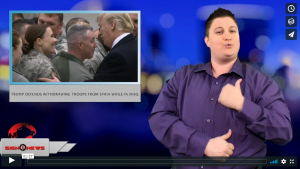 Sign1News delivers news for the deaf community powered by CNN in American Sign Language (ASL).
Transcript
President Trump and the First Lady are back at the White House after their surprise holiday visit to US troops in Iraq on Wednesday.
The trip marks the president's first visit to a combat zone while in office.
And it comes less than a week after Trump's controversial decision to withdraw forces from Afghanistan and Syria.
While in Iraq Trump defended the troop drawdown saying "We are no longer the suckers folks!"
And he boasted about defeating Isis after declaring victory against the terror group last week.
But the president's military commander say Isis is still a threat and lawmakers on both sides of the aisle are raising concerns about the abrupt withdrawal, which came without consultation with some key US allies.
However Trump did tell the press that he does not intend to withdraw troops from Iraq, saying the US could use the base if it wanted to do something in Syria.