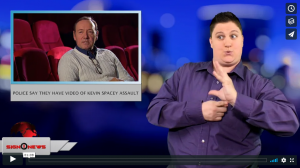 Sign1News delivers news for the deaf community powered by CNN in American Sign Language (ASL).
Transcript
According to a criminal complaint filed in Massachusetts, authorities say police have video of actor Kevin Spacey groping a busboy at a Nantucket bar in 2016.
According to the complaint, the accuser, who was 18 at the time, took a Snapchat video of the groping.
The busboy told Spacey he was 23 and in college.
The accuser told police Spacey bought him several drinks and tried to get him to go back to his house.
He says later in the evening the actor unzipped the accuser's pants and rubbed his genitals.
The accuser told police he didn't want to get in trouble for drinking.
He said he tried to shift his body to avoid the actor's advances but that Spacey persisted.
Spacey is charged with indecent assault and battery.