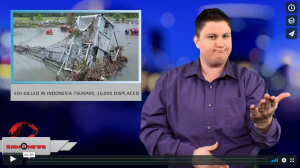 Sign1News delivers news for the deaf community powered by CNN in American Sign Language (ASL).
Transcript
Rescuers are using drones and sniffer dogs to try to find more survivors of the tsunami that hit Indonesia over the weekend.
The tsunami killed at least 430 people but that number is expected to rise.
More than 150 are still unaccounted for.
These new aerial images show the scale of devastation on Java's western coast.
The Anak Krakatau volcano is still erupting and Indonesia has now adjusted nearby sensors to detect smaller tremors from the volcano instead of just the stronger earthquake tremors.