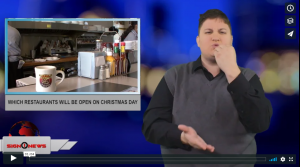 Sign1News delivers news for the deaf community powered by CNN in American Sign Language (ASL).
Transcript
How many of you wake up on Christmas and right around 10 AM you start to get hungry?
And just as you're thinking about running out to grab about to eat, it hits you – aw shucks! Everything is closed today.
But hold on! If you didn't get your grocery shopping done or if you just don't want to cook, here are a few of the available options.
If there is a Waffle House in your area, that may be your most reliable option. All of the locations are open 24/7.
IHOP is also a safe bet. Most of the locations will maintain regular operation hours on Christmas.
Macaroni Grill will also be open.
Certain Boston Market locations will be open for business on Christmas Day as well.
If there other restaurants open in your area, please share them with everyone on our Facebook page.